AUTOMATICS: Octonary EP (ltd white vinyl)

Featuring Steve Jones & Johnny Thunders
(Blank Generation Records BG001)
Those who've followed this website since the dawn of time may recall my enthusiasm for the Automatics LP Britannia, released in 2006, and featuring a guest appearance by Steve Jones.
Remembered primarily for the 1978 single When The Tanks Roll (Over Poland Again), there is so much more to David Philp's oft overlooked band. Thankfully, Blank Generation Records have taken it upon themselves to revisit the band's back catalogue with a limited edition white vinyl EP spanning the decades.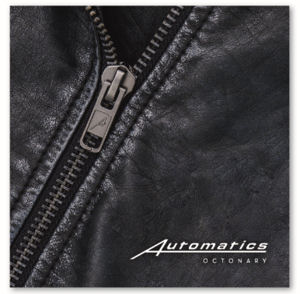 The record showcases two contrasting styles. Side A contains two moving songs in
Rule Britannia
and
Irish Blessing
. Reflective and sincere, the song writing and arrangements are exceptional. Both feature SLF's Ian McCallum and date from 2011 and 2006 respectively. The former begins with the chimes of Big Ben then powers along with its infectious musical motifs which tug at the heart strings. It's a touch melancholic, as is the acoustic led Irish Blessing, a beautiful song that stays the right side of positive making it all the more striking.
Side AA is where Jonesy and Thunders reside. The 2003 cut
Peace On Earth
is far removed from Steve's Greedies Xmas offering in tone - this is a rocking plea for peace - and it has those spine tingling touches that only Jonesy can muster, rubbing up against some powerful riffing. It's a glorious festive offering.
Wild One
dates from '78 and Thunders provides the guitar. The Heartbreakers and The Saints collide as Johnny takes his magic axe to the proceedings. Where has this punky gem been hiding?
The Octonary EP provides a window into the vast catalogue of previous unreleased Automatics albums that are now being given a digital release. The vinyl itself is a corker, well presented with a fold out lyric sheet. Your collection needs it.
Limited to 300 copies. Contact steve@blankgeneration.show for purchase details.
Also available on all download and streaming platforms.
Review by Phil Singleton (October 2020)
---