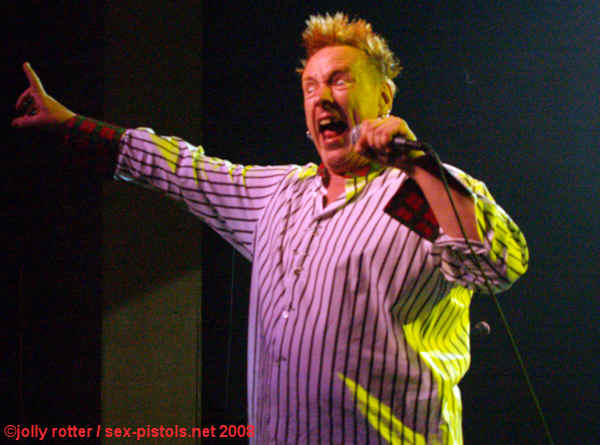 Review 1
About half an hour after the support band shuffled offstage, the lights dimmed and Vera Lynn's There Will Always Be An England played. What a relief, no Scratch Perverts marathon to endure and no Wurzels I've Got a Brand New Combine Harvester."

The band come onstage and start off with a slow walking pace version of Pretty Vacant. The band are in great spirits, smiles all around and clearly loving the reception they get. Pretty vacant ends and then its repeated with the full Pistols wall of sound treatment, loud and solid.

From then on the set pretty much follows the Brixton gigs; Seventeen, No Feelings etc, until they play Baghdad was a Blast, just before Submission. Johnny invites the audience to make up their own words to this.

Johnny also remarks that the Pistols are living proof if you put the effort in you can dance to anything.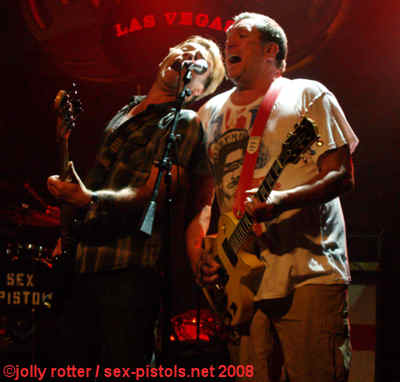 Problems follows No Fun and there is clearly an issue with the security. Johnny appears to sort it out with the guys at the front and jokingly observes that there is no problem now. Smiles and thumbs up from the security at the front. It's then on to God Save The Queen (Johnny hopes the audience knows the words as he may not), and then after a few pointed political comments and references to record companies they close with EMI.

When they come back for the encore Johnny is clearly pissed at the security out on the floor, and makes no bones about telling them to "fuck off" and leave the audience alone. Bodies is followed by Anarchy and they leave.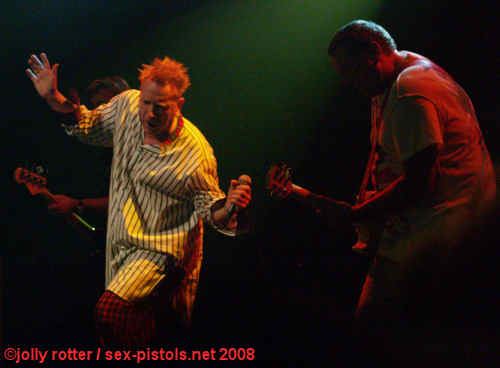 The crowd keep the pressure up and after a long wait they reappeared. Jonsey skipping onstage delighted to be the entertainer, pointing to his watch indicating it was well past his bed time. The rest of the band join him and they launch into Silver Machine. At the end Jonesey wispers in Johnny's ear, and John then asks the audience if that was as bad a rendition as the original.

The band then ask the audience if its ok for them to stay on stage and play some more, and then cap off the evening with Roadrunner.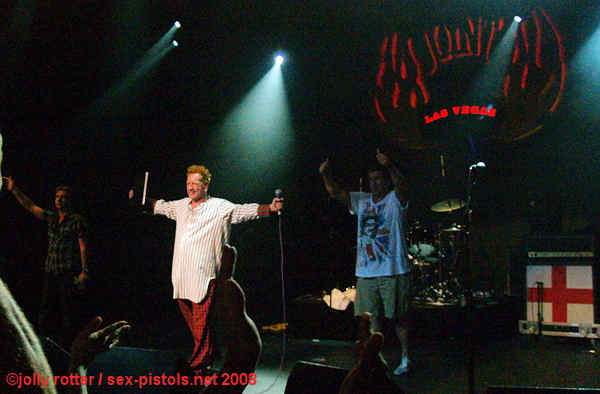 Johnny says the band will send their condolences to the Bushes and then he thanks the band for making him look so good.

It was marvellous entertainment. They clearly enjoyed playing, and they put in a lot of work. Johnny was non-stop with his facial expressions. Steve worked the guitar really hard and at times seemed to be exhausted but still kept going. Glen was prowling the stage (looking straight and normal) with a grin on his face to make any Cheshire cat envious, and Paul kept pounding away regulating the others. There was lots of interaction between all the band members. Big smiles and good humour.

Birmingham should be great, wish I was going!!
Review and pictures by Jolly Rotter for www.sex-pistols.net
---
Review 2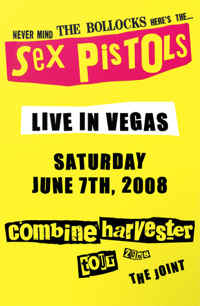 This was my sixth Pistols show - the last one was.. at the Hard Rock Vegas in the fall of 2003. I flew in from Portland to see the show with Bro and Otis. Hey, we're dedicated!
Security were o.k. coming in - even my friend's girlfriend was able to transfer her margarita from that ridiculous bong looking container that all the dorks on the strip were sporting, into a cup. It even spilled all over and security just chuckled. So it was all pretty loving at the back. I had the same spot as 4 1/2 years ago. Front right edge of left side railing by the bar.
Paul was amazing. All you mealy mouthed stupid arsed drummers need to take a page from his book. God, what a great player. Glen was too. Steve's tone was o.k. but never loud enough. I know he likes JCM800s but I have other Marshalls I think sound better. Basically the mix was cymbals, vocals, tom toms, with a splash of bass, bass drum, and guitar. Mixer man was asleep at the wheel - as always. I have a minor issue with Steve in that he utzes up the simple leads. Yet, he did the Anarchy solo perfect and even had some hang time on the last note .. n-n-n-n-nice! Overall sound was great. Lydon was his ever amusing self. Nice vocal break on Road Runner.
Crowd was kinda cold for the first half of the show. Well, they plain didn't like Louis XIV (myself included), but were silent and did not boo. Anyhow, the Pistols actually hadda WORK the crowd (not sure why - sheeeit this was an early, early, show!). But by the end, the awesome power of this band proved itself once again, and they had the entire room in a frenzy. About four or five shows in they're going to be deadly from start to finish. I got a great kick out of seeing them loose and having fun, and still showing up the kiddies out there who pretend to play music, by kicking their runt arses down the street.
Review by Jeff Williams for www.sex-pistols.net
---
Review 3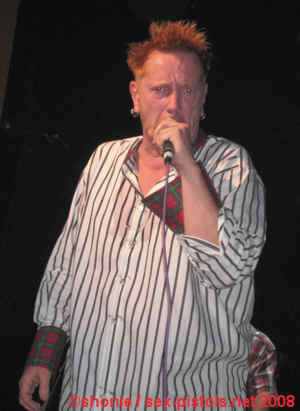 It was a fantastic show! This gig being the start of the "Combine Harvester Tour" was a blast from start to finish. The 'Joint' located in the Hard Rock Casino is the perfect place to see the Pistols; no seats, intimate but big enough to contain the wall of sound from Steve's guitar. I got to the Hard Rock early so I could meet up with some of the people who post on the site. Expecting the unexpected! I spent the night and early hours hanging out with some of the nicest people I care to meet. Apart from the regulars who were there like Whizzer, Snoogans, Jolly Rotter, and Gil who post on the God Save The Sex Pistols forum, there was a whole bunch of others at the bar, Mad hatter (Roy) and his Brit mates..and many more who I met, that made the night a little more special..cheers.
Walked into the sold out gig, got a hand stamp that said "SID" very funny! (Whoever thought of that one? J ). I immediately and politely wormed my way to the front rail with Whizzer just in time for Vera's intro.
Jonesy walks out first, straps on his guitar and fills the place with a giant chunky riff to warm the place up!!! Glen, Paul and Johnny follow and build with a dubby, cabaret version of Pretty Vacant then launch into it full on! Wonderful..it's going to be a good night. The band were on top form, exchanging funny banter, stage antics and jokes abound, while delivering a blistering set of classic songs to an enthusiastic crowd!
The audience here consisted of all walks of life and in some cases..what looked like death. Young and old, whatever!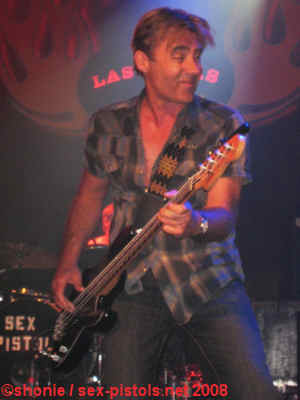 Like most American gigs there was bound to be a mosh pit of sorts who have the wrong idea of what a Sex Pistols gig is all about. So looking behind me, I just knew who would be leaving the show early at the hands of the bouncers!
I was down the front jumping around having a ball, all while trying to take some photo's for you lot! So my apologies here for lack of set list and song structure! By the way, hats off to Jolly Rotter (the mad Aussie) - his review (see above) is pretty accurate so read that one John and for God's sake don't pay any attention to those lame Las Vegas newspaper farticles!
Bloody nonsense..
As Spandau Ballet once sang 'to cut a long story short" Johnny was on form, although he did have a little rest during "Baghdad was a Blast" and let the crowd sing! Steve's guitar sounded awesome, broke strings through "Anarchy" but just powered on.. While Glen's thundering bass along with Paul's drumming held it all together. Photos speak louder than words anyway.!!!!!!!!!
And all I can say to you lot who are going to the up and coming shows is that "I HOPE YOU ENJOY THEM AS MUCH AS I ENJOYED THIS ONE."
Later after the gig about 3am, I got to hang out with the band and have a chat. Among the various faces gracing the seats next to me, adult star Jenna Jameson and rockers Billy Duffy and Matt Sorum..
Review and pictures by Shonie for www.sex-pistols.net
Pictures © Jolly Rotter 2008. Pictures © Shonie 2008.
Feature ©www.sex-pistols.net 2008. All rights reserved. Not to be reproduced without permission.
God Save The Sex Pistols ©2008 Phil Singleton / www.sex-pistols.net.