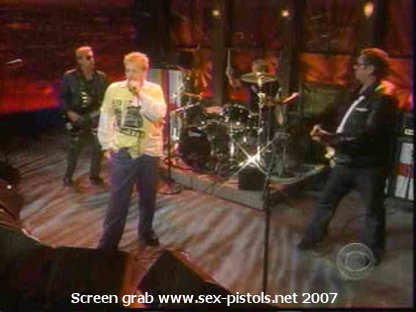 Brilliant! The interview with John and Steve was very, very funny. John was totally on form being the animated mouth piece he is, stopping at nothing and dominating the interview, which was a good thing because Steve was full of the flu and took a back seat. Craig Ferguson (a fan from back in the day, and a friend of Steve's) asked some good questions while John fired back replies with machine gun timing.
Craig pulled out a copy of Never Mind The Bollocks and told John that he stole it back in 1977! John then leaned over and tried to get money from Craig's wallet for payment, saying no one steals from me! They talked about the upcoming UK shows with great enthusiasm. Throughout the whole show, a video of the pistols doing Anarchy played and Holidays In The Sun could be heard. The best part was the Pistols' performance of Pretty Vacant.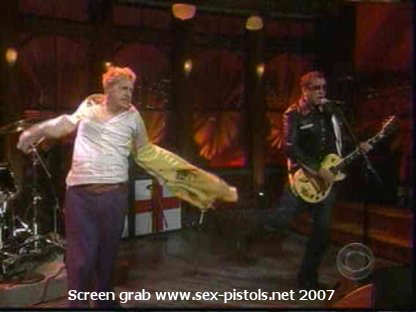 Craig thought that because it was the 30th anniversary of Never Mind The Bollocks and the Sex Pistols, they needed a special guest to introduce them!!!! So actor Kenneth Brenner did a fantastic and funny tribute to them.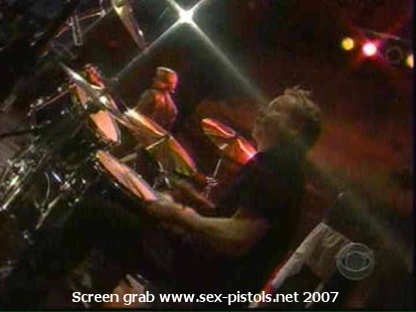 The Pistols came on and did a phenomenally brilliant version of Pretty Vacant. Talk about manic! True punk rock all around with John screaming at the top of his lungs while ripping at his clothes and squeezing his nipples!!!!! Great laugh! The band closed the show with a bang leaving the host Craig Ferguson sat in his chair speechless waving his copy of BOLLOCKS!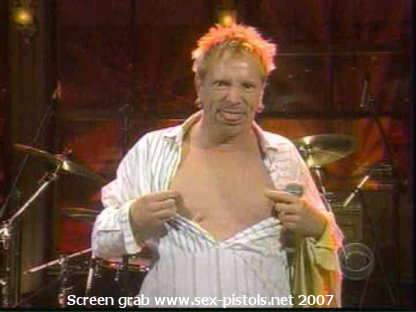 Review by Shonie 1st November 07 for www.sex-pistols.net
Screen grabs taken for www.sex-pistols.net
Images©cbs
Holidays In The Sun 2007 Index
Feature ©www.sex-pistols.net 2007. All rights reserved. Not to be reproduced without permission.
God Save The Sex Pistols ©2007 Phil Singleton / www.sex-pistols.net.