DAILY MIRROR - Friday October 10 1986
John Blake's White Hot Club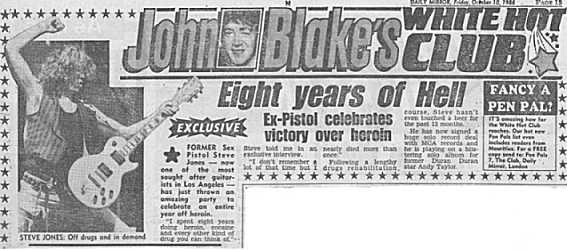 Eight years of Hell
Ex-Pistol celebrates victory over heroin
Former Sex Pistol Steve Jones - now one of the most sought after guitarists in Los Angeles - has just thrown an amazing party to celebrate an entire year off heroin.
"I spent eight years doing heroin, cocaine and every other kind of drug you can think of." Steve told me in an exclusive interview.
"I don't remember a lot of that time but I nearly died more than once."
Following a lengthy drugs rehabilitation course, Steve hasn't even touched a beer for the past 12 months.
He has now signed a hugh solo record deal with MCA records and he is playing on a blistering solo album for former Duran Duran star Andy Taylor.

Return Home
All material ©1998/2002 'Philjens'/www.cookandjones.co.uk