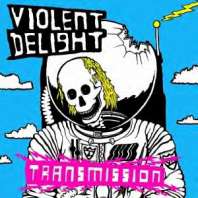 Violent Delight - Transmission (WEA)
Track Listing: Shattered / All You Ever Do (The Slut Who Loved Me) / Transmission / I'll Be Waiting / Alone / I Wish I Was A Girl / Parental Guidance / Same Old Story / Secret Smile / Mistakes / Jump / Like Them
Tracks in bold produced by Steve Jones.
At last, the long-awaited debut album by Violent Delight. Transmission features 5 tracks produced by Steve Jones, four of which are available on singles.
The title track and current single Transmission is awash with trademark Steve Jones production values. In fact, you can almost imagine Steve having provided the guitar on this track. With an airplay limiting subject matter of transvestites, and the chant of "Oi Oi Oi", it's a curious slice of energy, both powerful and catchy.
Parental Guidance and Same Old Story were previously available on a seven-inch only release. Musically, Parental Guidance offers a midpoint variation in style on the album, with its cautionary tale of stumbling upon your parents' private affairs. Steve is credited with providing additional lyric writing on this one! Both Same Old Story and the debut single Secret Smile follow the group's blueprint of spiky energy and growled vocal, with Secret Smile being perhaps the strongest track on the album.
The final Steve produced song, Jump, starts off sounding not dissimilar to the Beastie Boys with a rap style delivery, plus piss-taking lyrics of wizardry. To give Violent Delight credit, they do inject plenty of humour into their material, with this track being a further example. Listen closely at the end and you will hear a couple of comments from Steve.
The remaining tracks, produced in the main by Dave Chavarri, are similar in sound. These include a reworked version of the previously released Shattered, and the single I Wish I Was A Girl.
As I stated in my previous reviews of Violent Delight, the band have much in common with the current US punk bands in terms of style. In their favour, they appear far more youthful and fresh than many of their big-name counterparts. I do, however, feel that they are slightly limited by relying on a formula of stop-start energy. The songs here all sound great individually, but gathered together on an album, end up sounding very similar. Also disappointing was that over half the tracks on the album are available elsewhere in one form or another.
Yes it's fun, it's powerful, well-produced, and full of promise. It just didn't blow me away.
Review by Phil Singleton
September 2003


Return Home
All material ©1998/2003 Philjens/www.cookandjones.co.uk All rights reserved.