Steve in Atlanta, Ga, 1989
Personal memories by Richard Johnson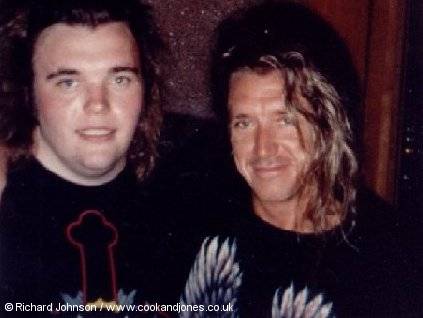 My friend Eric & I who had met at a Cheap Trick show in 1982 were sooo into Steve Jones by summer 1989. I mean we had Mercy, Iggy Pop - Blah Blah Blah & Instinct (I think one of Steve's best), & all the Pistols stuff. We knew about The Professionals somewhat, & Fire & Gasoline had just been released a few weeks before. We were into Steve so much that we wanted to meet his drummer (Micky Curry) who'd played on Mercy & we thought he would be with The Cult, being credited for drums on their new LP Sonic Temple.
Some friends of ours had met Metallica at this hotel, so we gathered our Steve Jones & Cult stuff & off we went to The Ritz Carlton downtown, Atlanta, Ga. We waited about an hour, met a bus driver who told us Ian Astbury was an asshole & hung out until the band came out of the hotel. (Unknown to us, Micky had left & been replaced by Matt Sorum by this time).
We had no fucking idea what Micky Curry would look like, so we asked Billy Duffy as they came out of the hotel doors, "Hey Billy, where's Micky Curry?" He looked shocked & said "He's not here, he played in studio only, Why?" We were saddened for a millisecond, & told him we wanted him to sign the Steve Jones LP Mercy, & the Sonic Temple LP. He then said "Oh well Steve's here, he's playing on a few songs tonight…there he comes now." As the words passed his lips, Steve walked up right behind him! They were getting on the bus to go down to the Amphitheatre so we didn't spend a lot of time with them, but we had our LP's signed by Steve & shook his hand, & had a laugh about the fact we were gonna get his LP signed by a drummer & ended up meeting him! (pictured top left - Richard & Steve: below right - Eric & Steve).

At the show, we were thrilled to watch Steve play 3 songs with The Cult, Love Removal Machine & Peace Dog were 2 of them. It was the highlight of our summer no doubt!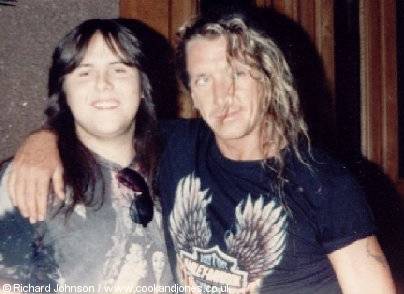 Coming down from meeting Steve & watching him play was too much, we couldn't bear to watch Metallica & their boring metal epics, like the opener Blackened, & walked out on the first song! As we sat out in the concession area at a concrete table, Steve Jones walked by with a drink & noticed us. He then sat down with us & talked about us having his LP & how he appreciated it. He also asked "Do you guys like Metallica?" He told us he "felt old because this wasn't rock n roll, it was music that sounded like a machine" that he "just didn't get it." I guess he thought it was odd we were sitting out in the concession area, as the headliner was just beginning.

Steve then told us about the new video he'd shot, Freedom Fighter & asked if "we'd like to see it on the bus". We, of course, were freaking out! I was 22 but felt like a kid! Sorry to say the vcr didn't work, but Steve gave us Anita's name at Gold Mountain Management (his management at the time - she ended up sending us all kinds of stuff, Steve press kit etc).

We just hung out near the bus, walking around the backstage area & talking to him. I told him I read an interview with Dave Mustaine (Megadeth) who claimed Steve wanted $500.00 & a blowjob for playing on their version of Anarchy. Dave had said "We gave him £500.00 & told him to get his own blowjob."

Steve said "That was all lies." He didn't need an ass like Dave Mustaine to get blowjobs, & he demanded & received $2000.00 dollars for 3 minutes work. I remember when we asked about a possible Pistols reunion (thinking it could never happen) Steve said "It should happen, it could happen, but probably won't ever happen." We asked why? Steve said "Johnny's a fucking asshole & no one could stand to be in a room with him if he'd agree to a reunion, which he never will."

Steve then explained, "I played bass on the fucking album! Me & Matlock wrote the fucking album. Sid was a fucking junkie who couldn't play." At the time we were shocked. I guess we held Sid in high regards. Now we realise Steve was being honest.

After chatting maybe 30 minutes about all of this stuff, Steve walked us back out to the concession area & said goodbye. I have never forgotten that day, still one of my favorites!

I met him again briefly in D.C. during the Pistols tour this summer with my brother-in-law, Jimmy (pictured below). However, he seemed pre-occupied by some blondes!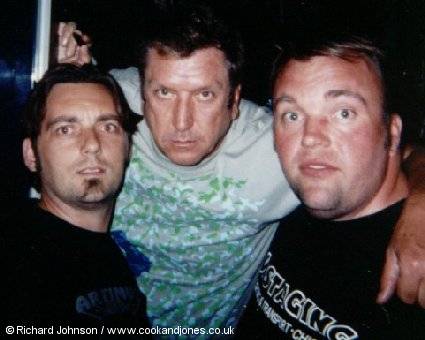 © Richard Johnson October 2003


Return Home
All material © Phil Singleton 'philjens'/www.cookandjones.co.uk 1998/2003
All rights reserved. Not to be reproduced without permission.