During 1993 & 94, Steve journeyed to Buenos Aires, Argentina, to work with South American punk band Pilsen.
The liaison resulted in Steve's input on two CDs, Bajo Otra Bandera on which he played, & Bestiario which he both produced and played on. Although Steve subsequently described his work with Pilsen as 'a nightmare', citing a particular problem with a drummer who could not drum, the CDs were never released outside of South America, & therefore remain amongst the most sought after Steve recordings.
Steve also performed six songs with the band during a live appearance on 3rd June 1994 at the New Order Club, Buenos Aires: Pretty Vacant / No Feelings / EMI / God Save The Queen / Bodies / Anarchy In The UK. Steve played drums during Bodies!
Bajo Otra Bandera also featured Ronnie Biggs, who co-wrote and sang two songs Pilsen & Dearest Madonna. How do these compare with 'No One Is Innocent'? Ronnie's lyrics are reprinted below!
1993 Epic/Sony Music 2-470212 Bajo Otra Bandera
Steve plays on "Cucarachas Para El Desayuno" & "Bajo Otra Bandera". Album also features Ronnie Biggs as singer & co-writer on 2 tracks, "Pilsen" & "Dearest Madonna".
Full track listing: Pogo En El Ascensor / Pilsen / Caramba, Carajo Ein Whisky (En Rio De Janeiro) / Cucarachas Para El Desayuno / Marcados A Fuego / Seis Novelas / Bajo Otra Bandera / Dearest Madonna / Va Por Mi, Vi Por Vos / Ella Salto Por La Ventana / Otra Cerveza / Loco De Placer / Pilsen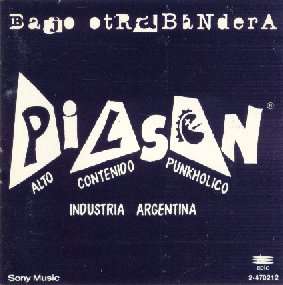 Pilsen (Biggs / Tucan)
They are known as Pilsen
They're full of wind and piss
They're so bloody awful
That they can hardly miss
They're not what you call musicians
Not one of them can sing
Except for their old mate Ronald Biggs
Who sounds too much like Bing
We have no special talent
Except for sex and drink
We never mess with drugs
What would the neighbours think
They like to lie around all day
Doing sweet FA
They're completely useless
But somehow make it pay
We rarely wash or clean our teeth
For we've got horrible breath
But punk chicks seem to like it
For them the kiss of death
You may have heard of the Pistols
Toten Hosen and the rest
But remember we are Pilsen
And we're the fucking best
So if you're ever in Argentina
Or better still B.A.
Come and see a Pilsen show
We are giving one today

Dearest Madonna (Biggs / Tucan / Masrie)
Dearest Madonna you're a punk
You like to mix with guys and chicks
And at the risk of sounding corny
You leave us feeling horny
We all need to be dominated
We looked at your pictures and contemplated
You will find you're suitably mated
Extreme ectasy... X-rated
Oh Oh Oh, so won't you come Madonna
Oh Oh Oh, and join us here in Rio
We could make a great sextett
Or, for sure, a swinging trio
Just buy a ticket and make the trip
Bring your lace, your mask and whip
We are Pilsen from Argentina
And we're famous for our meat
You should see us when we're pulsing
To a South American beat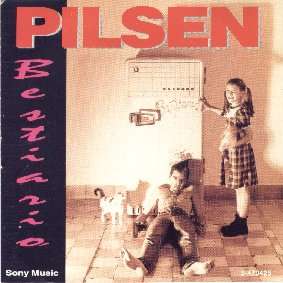 1994 Epic/Sony Music 2-470425 Bestiario
Album produced by Steve. Steve plays on "Ivan Fue Un Comunista (version lenta)", "Donde Habias Estado", "Juventud Rebelion", "Mundo Mentiroso", & "Ivan Fue Un Comunista (version rapida)".
Full track listing: Momentos Del Mundo / Ivan Fue Un Comunista / Inmortal / Zoociedad / Donde Habias Estado / Sabotaje / Juventud Rebelion / Milagros / Mundo Mentiroso / Boomalwnder / Escape / Fracasado / Corriendo A La Deriva / Fulsa / Ivan Fue Un Comunista