Steve Jones records with The Nothings
UPDATED 6th NOVEMBER 2000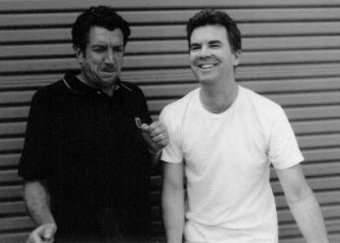 4th November 2000, CA
Session Two
'Addicted Too' is going to be the surprise package on the new album. In fact I was blown away when I first heard this! The strength of 'Lovely' compared to 'A Lot To Learn' lies in the diversity of the songs on offer. Although they never stray too far from the meaty sound we might expect from the album, there is no doubting the strength of the songwriting on show here. This is played at a more restrained pace compared with the rest of the album, without losing the energy. Steve plays both rhythm and lead, and again pulls another thrill packed contribution out of his repertoire. This time his input ranges from subtle to blistering. 'Addicted Too' is truly superb.
'Talk Behind Your Back' should be retitled 'Talk About The Energy'! This rocker is romping along in fine style all on its own when out of nowhere comes a simply amazing lead from Steve. Barely have you had time to recover from this when Steve returns to repeat the performance and bring the track to a climax.
With all six of Steve's contributions now recorded, it's a matter of sitting back and waiting for this monster to be released. Fans of Steve will not be disappointed. It is without doubt his finest work in years.
Of course we mustn't neglect the rest of the album which packs a punch even without Steve's contributions. Checkout 'Look Insane', which features Phil Holmes playing Steve's Gibson. You would swear that guitar had a mind of its own. It makes an incredible sound.
Start saving, this is an essential purchase.
Report by Philjens 6th November 2000
---
28th September 2000, CA
Session One
Steve turned up armed with his trusty white Gibson he'd originally purchased when recording with Andy Taylor back in 1986. Today it would be in action on four cuts destined for the forthcoming album by The Nothings entitled "Lovely".
With the basic tracks already laid down by guitarist/singer Phil Holmes and drummer Bob Deagle, Phil and Steve spent the day beefing up the tracks "I Can't Dance", "That Girl's A Slut", "The End", and "We're All Gonna Die".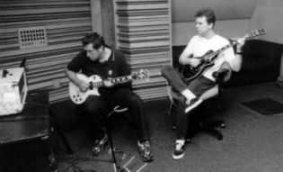 "I Can't Dance" is pure Professionals. Phil has provided a three guitar wall of sound to ensure a solid layer of energy is present even before Steve gets his hands on the track. Steve appears with a rip roaring solo played at lightning speed, guaranteed to delight. The sort of moment that reminds you of the reason why you became a fan of the Steve sound. It's simply awesome.
"That Girl's A Slut" begins with a drum intro and continues at a steady pace with the guitar sound building as the song progresses. In comes Steve with a solo that also builds gradually, then dips out before returning in jaw-dropping fashion with a finale to make the hair stand up on the back of your neck.
"The End" returns to the solid Professionals sound once more. Steve emulates his own Professionals guitar sound with another blistering performance which contains elements of both his work on Johnny Thunders "So Alone" album and the Andy Allen period Professionals.
On "We're All Gonna Die" Steve lets rip with another spine-tingling 100 mile-an-hour solo in the middle of the track and then returns to provide yet more of the same, finishing the song on a pure Jones crescendo.
Bearing in mind that the tracks have yet to be mixed and are minus the vocal tracks, the results so far are stunning. Phil Holmes has provided the musical muscle, giving Steve a platform to display easily his best work since the Neurotic Outsiders. The songs themselves are a direct throwback to the early Professionals, bringing back memories of "One Two Three" and "Kamikaze". They are that good.
Be sure to keep checking back for further news on the album.
Report by Phil Singleton
30th September 2000
(Pictures by Bill McCarter)
Return Home <!onMouseover Link CSS Script-© Dynamic Drive (www.dynamicdrive.com). For full source code, installation instructions, 100's more DHTML scripts, and Terms Of Use, visit dynamicdrive.com-->
All material ©1998/2002 Philjens/www.cookandjones.co.uk