THE NOTHINGS / JONES STORY
The Original Story
Personal account by Nothings guitarist Phil Holmes.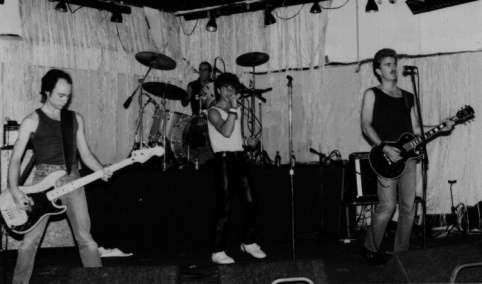 (Above, Lenny, Bob, Rob, and Phil)
Ok, here we go, I met our drummer, Bob Deagle in LA, early '78. Bob Deagle liked music a little more "mellow" than me but he was such a great guy and friend, we stuck together. I was a serious Sex Pistol fan, I had never heard anything like them and had been waiting for a band like them all my life, and then in Jan of '78, they broke up! - I was very upset - anyway, me and Bob Deagle played in several bands together, from '78 to '80, mainly playing partys and school dances, which were a lot of fun, but we played popular band's songs and it was getting very boring, so I decided to form a band that played original songs, songs like my favorite band of all time, the Sex Pistols! I recruited two friends of ours...
....Lenny Keringer on bass; Lenny was a big Sex Pistol fan and drinking buddy, we got along as friends and got along musically. He played guitar at first, but I told him to buy a bass so he could join our new band...and he did...
...then our singer, Bobby Nelson. Bobby was a crazy, one of a kind kid who loved chaos, drinking, girls, and the Sex Pistols, he was perfect for the singer role, he needed to work on his singing ability, but he had the balls to do anything on stage....and he would. The only problem with Bobby was he sang with a fake English accent, something that we eventually made him drop.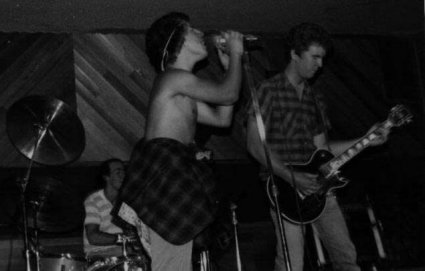 Bob, Bobby & Phil live!
The Nothings formed in June of '80, some of best gigs were in the first year of the band, then in Sept of '81, we had to kick Bobby out of the band for swindling some of our gig money. Looking back we should have forgiven him, and let it slide, but we didn't and he was out. After a few months he continued to hang out with the band and roadie for us; we managed to stay good friends after that first problem. I took over the singer role (plus guitar) in Oct '81. I could sing the songs ok, but didn't like it very much, plus we lost the looney front man thing. We were good and tight, had good songs, but we lost the chaos and crazyness without Bobby.
Then in Jan of '83, me and Lenny went to a club in Hollywood where Steve Jones was playing a tribute to Elvis Presley. I walked up to the bar where he was and said "Hello Steve, can I ask you question?" he said sure. I asked him if he played bass on "Never Mind The Bollocks", he said "Yes, all the songs but one", he was very nice and liked to talk. I told him about our band and asked him if he would come over and listen to us, he said yes, but he would need a ride, 'cause he didn't drive. A few days later, me, Lenny and his younger brother Rob, went to pick him up in Hollywood. He lived with Michael Des Barres and his wife, "I live near where all the fags are" he told me on the phone. We picked him up in Lenny's car. On the way to our rehearsal garage, Steve found some empty Lowenbrau beer bottles in the car, "Who drinks this?" he asked, we said "We all do", so that started a drinking relationship between us and Steve, we were always drinking when we were around him....anyway, he came over and listened to us, and liked us. We asked him if he would be interested in producing us, and he said yes...we spent a lot of time swimming at Bob Deagles house or playing, going to see Chequered Past, or doing demos.
We asked him if he wanted to do a gig with us for fun and he said sure. I asked Steve if he would sing some songs and he said "I hate singing" so I did it, uggh!. The gig took place in Feb '83. Song run down as follows.... World War III / Reality / Do You Remember / No Publicity (early Nothings song, Steve joined us on stage at this point) / Little Boys / Silly Thing / Black Leather / Dancing With Myself / Just Another Dream (Rob...Lenny's little brother joined us on stage to sing this song. Steve missed the beginning and we had to start over) / One Two Three (Rob sings again) / Here We Go Again / Join The Professionals / No Feelings / Madhouse (Steve told us this song was about Paul Cook's mom, she had mental trouble) / Bodies / Holidays In The Sun...end.
Steve really liked Rob a lot, I think he liked him the best out of all of us, he was a cocky kid, good looking, and I think Steve saw some of himself in him. Michael Des Barres told us we should have Rob as our singer, cause he had something special. I wasn't really impressed with Rob's singing , so I continued to sing.
We started to record some demos with Steve producing on a 4 track recorder a friend had. We did these between Feb '83 to May '83, with the exception of "She's In Another World" which was recorded in Sept '83. Steve told us we should use Rob as the singer, he was an ok singer, and we were good friends and Steve liked him a lot. He was a good looking kid and the girls liked him also. He joined the band during the last six months and did some live shows with us. Here's a run down of the main recordings made with Steve. Tracks 1-5 were released on the record "A Lot To Learn" (Augustus Records).
1) A Lot To Learn (P.Holmes, R.Weiner). Steve loved this song a lot, thought it was great, he sang back up on it. Me and Lenny got into a big fight in the studio, because he didn't want Steve to sing on the record. Steve threatened to walk out on us if we were going to fight all night, I won the argumenet, and Steve sang! haha!
2) Horrible Suspicion (P.Holmes). Steve completely changed the song musically, and shortened it up, he should have gotten a song writing credit, but then we would have had to pay him more money, so I kept quiet. This song got a lot of radio play locally on KROQ FM radio station. Steve said to me "see, I told you to change it", he was right.
3) Do You Remember (P.Holmes). Steve didn't like this song, I did at the time, now I don't really like it that much, too slow.
4) Reality (P.Holmes, L.Weiner). Good song, rocks pretty good
5) World War 3 (P.Holmes). Ok song, played on the radio too...locally.
6) Government (P.Holmes). -demo- Good fast rock song, but the lyrics are kind of silly, middle class american kids complaining about government?
7) Never Change (P.Holmes, L.Weiner, B.Deagle). -demo- Good song, maybe should have been on the record instead of one of the others.
8) Horrible Suspicion (P.Holmes). -demo- This was the first version that Steve rewrote, has different music and an extra verse which he got rid of.
9) Here We Go Again (S.Jones). -demo- We almost did this on the record, but would have to give him extra money, so we didn't.
10) Do You Remember (P.Holmes). -demo- This version is actually better than the record, I think, not the sound, just the tightness of it.
11) What Went Wrong (P.Holmes). -demo- I thought this was a great song, should have been on the record, sound quality is not so good.
12) She's In Another World (S.Jones, M.Des Barres).-demo- I play bass on this and Bob Deagle plays drums, Steve plays guitar and Mike Des Barres sings. We did this as a demo, before Chequered Past recorded their album, they were going to put it on their album, should have, it's pretty good, better than some that actually made it, does sound like "Kick Down The Doors" to me though.
13 & 14) Two additional tracks "Nineteen Thirty Nine" & "Secret Society" were recorded with Steve at the "A Lot To Learn Sessions" but wouldn't see the light of day until the 1999 re-release on CD ("New" '99 back cover pictured above).
After the record , we would go to Chequered Past gigs when they played locally, or Steve or Mike would come to ours. After the release or their album, they went on tours and they were very busy, Rob stayed in touch with Steve the most, that was most of '84.
In March of '84 , The Nothings broke up, we argued about some stuff, but not a lot. We had lost a lot of money on the record, we had no manager, and a terrible agent. After the band broke up we all stayed good friends. We were just kids with no guidance, if we'd had someone looking out for us who knew what they were doing, maybe things would have been different...maybe not, I guess we will never know, oh well, it was a great time and I will never forget it....
On to Steve, this is the time he was deeply into heroin, I didn't know it at first with us, but he would fall asleep in the studio, just like that. He always needed money, never had any money for anything, not even a beer or cigs, I was always buying him stuff....one day I called him at Michael Des Barres' house and Mike told me, "Phil ,we kicked him out mate, had to,... he's got a problem". I talked to Mike for a while and he gave me Steve's new phone number.... this was early '85.
I felt bad for Steve, he was a one of a kind guy, never met anyone like him, very nice and original, but the drugs completely ruined him for this time. I only saw him twice in '85, both when he played in the Dano-Jones band, the last time, he used my guitar during the gig....I kind of stopped seeing him then, Rob continued to see him and fill me in on his whereabouts.
Steve finally kicked his habit in '86 or '87, and started to work with Andy Taylor at this time. He became very successful, he is very talented, and when he quit drugs it all came back to him. I did see him on the streets in '89 or so, he was riding a Harley with Paul Cook on the back in Santa Monica. I got to meet Paul Cook, it was great! The first thing Steve asked me was "How is Rob?". Steve really liked him. That was the last time I saw him.
Bob Deagle and Bobby Nelson went to the '96 Sex Pistol show, and made it to the party after at the Viper Room in LA. Bobby saw Steve and said hello; Steve remembered him as our roadie. Steve asked "When I worked with you guys I was really fucked up, you know" Bob and Bobby said "Yeah". Then Steve said "I didn't steal anything did I Bob?" and they all had a laugh.
Oh yeah....The Nothings are going to start playing again and do some demos!!!
Phil Holmes, California, August '99
Click here for The Nothings Recorded Legacy
Nov '99 Update. "A Lot To Learn" re-released on CD. The CD includes 2 previously unheard bonus tracks from the Steve Jones sessions. See The Nothings for details.