The Nothings - Lovely (Galaxy Records)
Track Listing: What Went Wrong / Addicted Too / Swindled Again / I Love Women / Talk Behind Your Back / That Girl's A Slut / We're All Gonna Die / Look Insane / Won't You Leave Me Alone / I Can't Dance/ The End / Born Alive Dead
---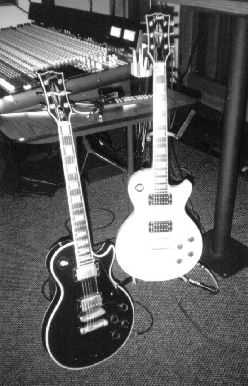 Coming soon....

'Lovely' was always going to be a difficult release for me to review, having been privy to the development of the record from the basic backing tracks to the finished version in all its CD glory. Conversely, it is also one of the easiest releases to review because quite simply, the finished product is superb.

When guitarist / vocalist Phil Holmes began to assemble the album he focused entirely upon producing an album that firstly he would like to hear, and secondly that would rock Professionals style. The inclusion of Steve Jones himself on six of the tracks has ensured that 'Lovely' has exceeded all expectations. His sound is unmistakable, just check the lightning riffing on 'Talk Behind Your Back' and try to remain impassive - you can't, it's electrifying. Steve's guitar has never sounded so good. Phil wanted Steve to reproduce the Pistols/ Professionals sound. He's delivered with such spine-tingling swagger, any thoughts you may have had that Steve had lost his touch will be instantly dispelled; crank up the licks on 'That Girl's A Slut' and 'We're All Gonna Die' for instant proof. Or 'The End'...or 'I Can't Dance'.

While there's no getting away from the fact that Steve's presence has added something special, it is the strength of the material which has allowed Steve to turn in a great performance. The album is a rarity in itself as it contains 12 memorable tunes. Having picked up his guitar after a lengthy lay-off from the first Nothings project in the early Eighties, Phil Holmes' songwriting has been awash with inspiration. There is variety without straying away from the distinctive sound of the band. 'Addicted Too' (also featuring Steve) is as strong a track as you'll find on any rock album, blessed with a unique song structure. 'Look Insane' featuring Phil playing Steve's Gibson is not far behind. There's pop sensibility in evidence as displayed on 'Swindled Again' with some Skids type riffing.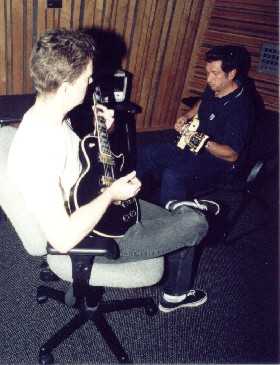 Phil & Steve
The lyrics are far from vacuous with much autobiographical soul-baring in evidence and a hint of humour thrown in; 'I Can't Dance' and 'Won't You Leave Me Alone' being examples of this. 'Won't You Leave Me Alone' also contains a great audience singalong moment for those live concerts.
From the rapid opening strains of 'What Went Wrong' to the closing solo on 'Born Alive Dead' there are no weak moments. There's no need to take my word for it as Galaxy records have snapped up the album and propose some serious promotion. A single 'I Love Women' (the perfect choice - a three minute attention-grabbing humourous slice of pop rock) is also on the cards. With accompanying distribution, 'Lovely' will soon be available in your local Virgin Records store in the US. Furthermore, if the album achieves the success it deserves even more exciting plans will hatch... support 'Lovely', you may find you have in your possession your favourite album of 2001.
Review by Phil Singleton - 11th Feb 2001
Pictures by Bill McCarter

---

Return Home
All material ©1998/2002 Philjens/www.cookandjones.co.uk