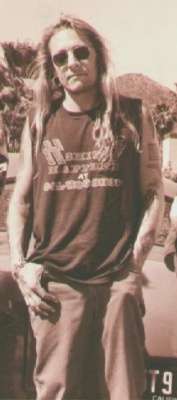 Phil: What are your musical roots? Who inspired you to pick up a guitar?
Terry Nails: My dad is a jazz musician. He was in a group called the Four Freshman so he had quite a few well known musician friends that we used to go see play when they were in town. This started at a very early age. Later on I started listening to guys like Paul Butterfield, Johny Hammond and Charley Musselwhite. As far as playing guitar....? I consider myself a bass player. My younger brother Ted probably got me started playing guitar but James Gurley from Big Brother and the Holding Company gave me my 1st bass in 1968 when I was 14 or 15 years old...
Phil: What groups had you been involved with prior to playing with Steve?
Terry: Let me see....... I played with a lot of local bands in the San Francisco bay area, but for the most part I've been a studio guy. I played in a band called Killerwatt that was the 1st band to play at the now infamous Mabuhay Gardens which is where bands like the Dead Kennedys, The Avengers, The Mutants and the Nunns played. I did studio stuff with Eddy Money, the Pointer Sisters and later on played in a band called Tommy Tutone for a few years.
Phil: Did you know Steve before you worked on the album?
Terry: I met Steve at the last Sex Pistols gig at Winterland. I used to come in and help out the local bands as much as I possibly could and since the bands that were opening up that night didn't normally play gigs that big I loaned them my equipment to use.
It was such a bizarre scene after the gig, I mean total chaos that I ended up grabbing Paul Cook, taking him back to my place to stay for a couple of days till things cooled down. Anyway that's the first time I met Steve. We later on became good friends and I still consider him as one of my closest friends... although I don't see him much cause I live on the east coast now..
Phil: What memories do you have about working on "Fire & Gasoline"? Steve was making a far harder sounding album than his previous "Mercy". Did he make it clear from the start the type of sound he was going for?
Terry: This may sound a bit weird but still to this day, I have never had as much fun in life as I had working on that album. None of us ever wanted to go home...I'm not kidding. For the most part there were 4 of us in the studio, Mark Dernley the producer (he worked with Mutt Lange on a lot of the AC\DC stuff) Steve, myself and drummer extraodinare Mick Currie (he did all the drums on the Cult's "Fire Woman" album). Basically we just laffed our asses off and played our hearts out...
The album was recorded at the now defunct Amigo Studios in the valley out in L.A.
As far as the heaviness of the album....That's just what we felt like at the time
Phil: Were there any songs that didn't make the album?
Terry: Not that I can think of..
Phil: Did Steve enter the studio with the songs complete, or did the musicians have an input?
Terry: About half the songs were complete although most everything got changed around somewhat when we got in the studio.Steve was definitely open to other ideas.. he's good like that, very easy and fun to work with.
Phil: What were Billy Duffy, Ian Astbury & Axl Rose like to work with?
Terry: It was great working with all of them. Steve, Ian, Billy and I hung out with each other as it was, so it was like having the family over to dinner.. and Axl was very cool, I've always liked him.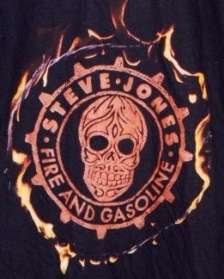 Phil: Was there a feeling that MCA were putting some weight behind promoting Steve?
Terry: MCA...? Misguided Carrier Attempts. Musicians Cemetary of America, Musical Casualty Association... Need I say more. We had a top 10 video, incredible national airplay and were on tour and the company didn't have a single product in any of the stores. Not a thing until the album was off the charts for 6 weeks. By that time it was too late to save it, or so they said..
Phil: Which musicians appear in the "Freedom Fighter" video? Those on the record, or the touring band?
Terry: The guys in the video were the touring band. The band that did the Fire and Gasoline tour consisted of Pete Kelly on drums, Steve, Kirk Hellie and Mike Dimkitch on guitars, and myself on bass.
Phil: You made the transition from the album to the tour. Did you and Steve become a close unit?
Terry: Were we close? Yep, real close.
Phil: Tell us about the tour. Didn't you support U2? Or were you also headlining your own shows?
Terry: We headlined some shows and we opened up for the Cult and a couple of shows Steve and I and drummer Pete Kelly played as part of the Cult.
That was a blast... As far as U2 is concerned I don't remember opening up for them...... but what do I know??
Phil: Three guitarists must have resulted in an incredible live sound?
Terry: 3 guitars. Yeh, it was louder than Hell. I had to use 4 SVT set ups just to be heard, heh, heh....
Phil: MCA released a 4 track live promotional 12", "Hollywood Live", recorded on 23rd September 1989. What recollections do you have of this? Was it a "showcase" event?
Terry: 4 live tracks. Yeh I remember that, it was our very 1st gig with the live band. No sound check or nothing. We went on right after Sound Garden. It was for the Concrete Foundations Forum... Ozzy played that too...... I didn't know anyone ever heard that stuff, I mean with MCA and all. Well you know..
Phil: How did the concerts go down? Was there a following for Steve's solo gigs in the US?
Terry: Yeh there was a following. But I don't think they were expecting what they got. It wasn't the Sex Pistols, that's for sure....
Phil: Any stories you're able to tell us about life on the road with Steve?!
Terry: All I can say is that Steve's got a way wiff da ladys, if you know what I mean.......
Phil: After the "Fire And Gasoline" tour, Steve's solo career came to an end. What were your recollections of this period?
Terry: I wouldn't say that his solo career came to an end. He was working on other things, taking some time off and having some fun............
Phil: Have you worked with Steve on any other projects? Would you like to work with Steve again?
Terry: Naaa.. we haven't worked on anything since the band. He's on the west coast and I'm on the east coast...would I work with him again? Absolutely...Anytime.
Phil: Tell us what you've been up to since, and what plans you've got.
TN: Well I played with Ozzy in the studio for a while,(doing the demos for the No More Tears Album. If you ever get a chance to hear the CD: No More Tears the Demo Sessions, You'll see what those songs should have sounded like on the final album, which was started and abandoned 4 times...) with Zack Wylde and Randy Castillo. Later on Randy and I had a band called the Bone Angels with the late Frank Starr, singer of the Four Horsemen and John Lowrey, now Johny Five of Marilyn Manson.. Most recently I've been working with this great R&B singer named Rich Stites who's just amazing.. other than that I just try to sleep as much as I can..(smile) See ya!
Phil: Terry Nails, thank you very much.
(Written by Phil Singleton, June 2000)