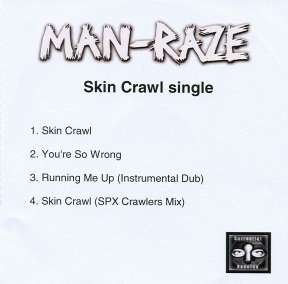 "It makes my skin crawl" growls Phil Collen. The debut single by Man-Raze is a steamroller of a song. The clever intro allows Phil, Paul, and Simon to kick in and announce their presence individually, before taking off in a grinding fashion that should satisfy fans of all three musicians. A well structured song with its feet very much in the genre labeled Rock, it counterbalances an ear splitting chorus with a menacing verse. Paul's drumming is reminiscent of his work with The Chiefs Of Relief and forms the basis of the thundering production.
You're So Wrong is a powerful, more traditional rock song with a Glam Rock tinge. Phil uses the multi-layered, dense backing, to display some guitar wizardry that would sit effortlessly on a Def Lepard record.
(Pictured: Skin Crawl promo)
Running Me Up (Instrumental Dub) sees the band showing their skills in delivering a reggae tune. Some great bass and spot on skanking drumming give the song its overall style, while bursts of Phil's guitar give it a rock leaning. The Ruts' Jah War springs to mind, which is no bad thing. This song was performed live at The Spitz gig in September, and showed they can throw a reggae song into mix, and pull it off.
SPX Crawlers Mix of Skin Crawl is a neat way of closing the maxi-single, making use of the component sounds to deliver a significant departure from the standard mix. There is a cool fade early in the mix to look out for as well.
Man-Raze is not just a group of mates having a laugh; it's a serious endeavour. That's why they have self financed the project, and that's why they have produced such an impressive debut.
Review by Phil Singleton