NEUROTIC OUTSIDERS LIVE:
LA2, London. September 26th 1996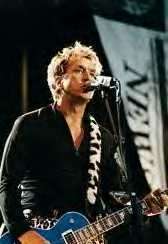 Steve 1996
Summer 1996, I thought could not be more complete. I'd seen the Sex Pistols three times, at Finsbury Park, Paris, and The Phoenix Festival. Then Oxford Street Wednesday lunchtime in September, I saw "Neurotic Outsiders" advertised in the Ticketmaster window for the following day!What's more they had tickets! So, bought three, rang two mates and said whatever you're doing tomorrow night, cancel it!
Could it be this easy? Steve Jones playing in a tiny club, only yards from the site of the first ever Pistols gig at St Martins?
The original Pistol back in Soho! This was going to be the night of my life!
Arrived a little late (I used to love going to sound checks and blagging a backstage chat!) as I needed a few pints to savour and celebrate the night, and just caught the support band "Stimualtor".
Cooky was upstairs in the "VIP" bar, things were hotting up. Onstage, the "Slag" guitar! The blue Les Paul standard! The "engine" for tonight! Right there, about 15 feet away! Here we go!
The intro music; "Planet Earth" Matt Sorum starts the beat, about twenty Duran fans hog the front of the stage and start screamimg as John Taylor , wearing wooly hat and trainers takes the stage with Duff McKagan.
A few slow bars of "Planet Earth", Jonesy straps on the Gibson and WHAM! straight into "Nasty Ho". The place goes ape-shit!Curious photographers and journalists are confused, "what the hell is this?"
I think they were expecting a "pop supergroup" and realised these guys meant business! A punk rock party with a Sex Pistol in charge of events!
I was trying to take a few photos, and got really into it. The set list was a dream come true;
All the album, then Silly Thing, Join The Professionals, Bodies (which took the roof off!), Janie Jones, Raw Power.
I remember reading years ago, when Jonesy was down on his luck in LA, that Ian Astbury said he was trying to get him a "Cambridge Rapist" T-shirt, as his "Cowboy" shirt was getting worn out. So, I thought Steve deserved a present that night. I took off my Cambridge Rapist t-shirt, pushed to the front and threw it right at Steve.
It caught him right on target. He stopped the set, unrolled it and said "Fuck me, Cambridge Rapist!, is this an original?"
It was. So it was probably worth loads, but what the hell, Jonesy needed that T-shirt to finish the Pistols tour!!
(By the way Steve if you read this, how about a T-shirt in return? Contact me!)
Then Simon Le Bon jumped up for New Rose, but even he knew he was standing next to a king, and gave him a "thank you god for letting me on your stage" kind of hand-shake at the end of the song!
Cooky looks down from the balcony during "Join The Professionals".
All the crowd were wild, and his reaction alone must have been enough to consider a Professionals re-union?
Steve's comments were really funny:
"This one's called Angelina, it's about a bird with great big fake knockers out 'ere".
"Who wants this beer towel that I've wiped my sweaty ring with?"
"Right, we're going 'ome now cos we don't know any more songs!, see ya!"
It reminded me of the Sham/ Pistols gig at Glasgow Apollo in '79, and a bit of Leeds Futurama in '82, it was as if Jonesy knew he'd not be back for a while!
There was a feeling as if everyone in the place knew that this was a really special evening, probably never to be repeated.
A hot Summer evening, and what a night! I had followed Jonesy's "career" for twenty three years, and this gig was the best he has ever performed in my eyes!
I walked through Soho later, realising I was freezing as I had just given away my T-shirt and getting a cab was a bit tricky!
I saw that this gig was shot on video from the balcony. If anyone has a copy please get in touch!
That was literally one of the best nights of my life!
Review by Glitterbest@talk21.com

Return Home
All material ©Philjens/www.cookandjones.co.uk 1998/2002 <!onMouseover Link CSS Script-© Dynamic Drive (www.dynamicdrive.com). For full source code, installation instructions, 100's more DHTML scripts, and Terms Of Use, visit dynamicdrive.com-->