DONNY COWAN INTERVIEW

DONNY COWAN, bassist with KRAUT, talks exclusively to 'Kick Down The Doors' about KRAUT's association with STEVE JONES, and tells the story behind one of New York's finest ever punk groups. Interview by Phil Singleton ('Philjens').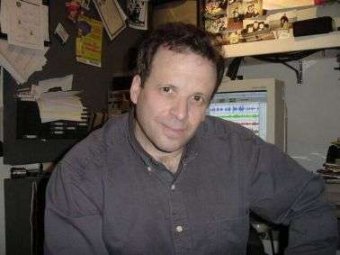 KRAUT: Donny Cowan - bass/vocals, Davey Gunner - vocals, Doug Holland - guitar/vocals (replaced by Chris Smith) , Johnny Feedback - drums/vocals.
Phil: The famous Clash gigs at Bonds Casino, NYC, in 1981, proved to be a pivotal moment for KRAUT. What was the story behind this?
Donny: When the NYC fire Dept. closed down the Clash shows because of fire code violations by Bonds (not quite enough exits), The Clash decided (nice guys that they are) that everyone that bought a ticket would get to see the band, so 3 shows turned into 11 shows... Who would open on those extra nights? I decided it would be KRAUT. Kraut had only been together 4 weeks so I quickly brought the band into the studio and recorded a rough 3 song demo -'Kill for Cash', 'True Colours', and 'Just Cabbage'. We recorded it in 1 day and dropped off the tape to a friend that worked at Bonds, who then passed it along to Mick Jones. Every night the band would plaster the outside of the club with KRAUT posters. The message got through, we met with Mick Jones and he asked us if we were nazi's and of course we weren't, so he told us we were playing the next night.. with very short notice...in fact we couldn't find Davey (Gunner) until about a half hour before sound check. He had gone to the beach! That was our first live performance ever. It created a buzz about us all around NYC punk/hardcore scene. We were just playing our music, and doing the best job at it we could... Ah! To be suddenly thrown into the rock and roll sh-pile. It was great!
Above: Don & Doug
Phil: You supported The Professionals in Boston in June '82. How did you get the gig?
Donny: KRAUT had played The Channel Club in Boston before and always had a great time. I called up one day to book the band and the guy asked me if we wanted to open for The Professionals...as fans of the band we couldn't resist the offer. I remember getting off the phone and thinking 4 years before I was in my living room playing to Sex Pistols albums, making believe I was in the band, now here I was opening for The Professionals...fate is a wonderful thing.
Phil: Was this your first meeting with Steve Jones & Paul Cook? Did Steve take an interest in KRAUT straight away?
Donny: Yes, we met Steve after we did our sound check. After we finished the check Steve came over to us to tell us how wonderful we were...It seemed we were on the same page from the start. He kept telling us that we played too fast and we told him he played too slow. He invited us to come down to the Ritz to see them in NYC.
Phil: When you next hooked up with Steve, The Professionals had just split. Did Steve look you up or was it a chance meeting?
Donny: After parting ways in Boston, I met Steve at The Professionals last show at The Ritz, NYC. He was pretty happy to see Doug Holland and I. After the show Steve went out with us on the town..Steve was always good for a laugh.
Phil: Did Steve shed any light on why he decided to stay on in New York, while Paul Cook, Ray McVeigh, and Paul Myers flew back to the UK?
Donny: Steve just decided he'd like to stay in NYC for a bit. I think he just didn't want to go back to the UK to the same old thing.
Phil: Steve soon became involved with your debut LP, 'An Adjustment To Society', playing on three tracks, 'Kill For Cash', 'Onward' & 'Sell Out'. Was Steve open to guesting on the album?
Donny: Steve was happy to play on our record, we were almost finished recording, so we could only figure him into those 3 tracks. He would have done more if we wanted. Steve and Doug and I had become very good friends, even though Steve was a "fuckin Douche" we still let him hang around with us. Steve had played with us often, coming to rehearsal and going out to night clubs and such. It was a pretty good time in NYC then, The Clash were still in town, Billy Idol, Iggy etc....So Steve just fit in NYC nicely.
Phil: It's been stated that Steve played the intro on 'Kill For Cash'; did he appear on the rest of the track?
Donny: Steve played guitar on 'Kill for Cash' intro and the rest of the track, I believe he was panned to the left, if you listen you can hear it quite well. Doug and Steve make quite a pair.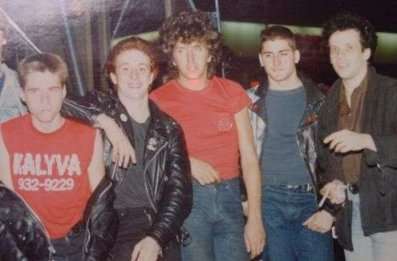 (Johnny Feedback, Doug Holland, Steve Jones, Davey Gunner, Don Cowan)
Phil: You must have become close to Steve as he lived with you and guitarist Doug Holland for a while. How long did Steve stay? Was Steve looking for a base of his own during this time?
Donny: "Steve could stay for a real long time" that's what all the girls would say... he only slept in my second bedroom for 6 months.
Phil: Any stories you are able/willing to recall?!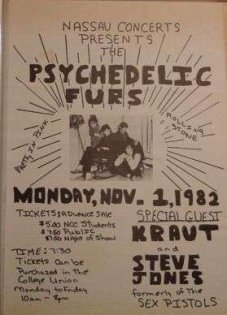 Donny: My favourite story I'm afraid I can't tell you, but the other that comes to mind is, KRAUT was booked to open for the Psychedelic Furs at Nassau Community College, N.Y.. Our producer Ryk Oakley and road crew arrived early to set up our gear. The Furs "crew" were totally uncooperative since it seemed they didn't believe the posters that read KRAUT w/special guest Steve Jones. They wouldn't move their drum kit or even let our roadies set up on stage with the Furs equipment... Until Doug, Steve, and I walked in , then we were all treated to cheese and crackers and blue m & m 's .
Phil: Steve's health was suffering in the early '80's largely due to his drug problem. Was this evident during your time with him, & if so, did it cause any problems?
Donny: Steve never showed any suffering in front of me.
Phil: Steve played live encores with you on occasion. These must have been exciting for yourselves and the crowd?
Donny: Steve did play encores with KRAUT at many shows. It was always a blast ! The audiences would get off seeing Steve play 'Bodies'. I remember Jack Rabid once telling us after the show that that was the closest HE would ever get to seeing the Sex Pistols! Besides 'Kill For Cash', 'Bodies', 'Onward', 'Sell Out' , I think we did 'Silly Thing' once or twice as well. Steve was a welcome addition to KRAUT.
| | |
| --- | --- |
| (Above - Steve & Davey) | |
Phil: The album 'Night Of Rage' includes an encore from December '85, recorded in LA. Was this towards the end of your association with him?
Donny: 'Night of Rage' album features an encore at the Lingerie Club in '85. It wasn't the last I saw of Steve, but 3,000 miles is a long way.... We've kept in touch, and I will always consider him a good friend.
Phil: Steve's work with you brought KRAUT to the attention of many. Did you feel his involvement helped or hindered your progress?
Donny: KRAUT always had a great chemistry, we all had our own tastes and meat injected them into every song we wrote. Steve Jones was just the "icing on the cake", when KRAUT played with two guitarists instead of one it was just too good to be true! Steve enjoyed playing with us as much as we liked having him around. The kids would get to see a Sex Pistol play live and we would just have fun, playing. That's the way it's supposed to be.
Phil: Were you tempted to involve Steve in any further recordings?
Donny: We discussed having Steve play on KRAUT's 3rd album, but when Chris Smith (ex-Battalion Of Saints) passed away, I had to break up the band. Steve really helped me get through all that, whenever he came to NYC he was sure to get in touch with me. In fact if it wasn't for him taking me to the Nirvana club, one night in June of '87 I might still be single. I guess if I had had an "ISDN" line back in 1987, he wouldn't have seemed so far away.
Phil: He became involved with Chequered Past around the same time as he was working with KRAUT. Was Steve clear on what he wanted to do with himself or was he drifting during this period?
Donny: Chequered Past was right around the same time as KRAUT. NYC was full of a lot of musicians that were from some other band. I believe that all the musicians in that band were sick and tired of being on "Vacation" wasn't it?
Phil: Steve relocated to LA. Was this due to Chequered Past?
Donny: Steve got off the plane at LAX, saw the women, and knew he HAD to live there! That's a fair reason wouldn't you say?
Phil: Did this bring your musical association with Steve to an end? Have you kept in touch with Steve over the years?
Donny: I hear from Steve, occasionally... I can't say if anything ended our musical association, that is burned into vinyl!
Phil: How successful do you feel KRAUT were during this period? In NYC you became a premiere punk band.
Donny: KRAUT is a very successful band and is still loved by many...We've sold copies of our records and over the last 20 years. 'An Adjustment To Society' and 'Whetting the Scythe' are currently released on New Red Archives as 'KRAUT The Complete Studio Recordings' , which features all the tracks with Steve and Chris Smith as well. Yes in NYC we were a big deal but you know you're doing something right when you stop to play at some little outpost somewhere out there and the kids love it, that's what it's all about.
Phil: You were one of the only punk bands to have a video, 'All Twisted', shown on MTV! That's an achievement in itself.
Donny: MTV, it was great to see KRAUT sandwiched between 'Prince' and 'Rod Stewart'. When MTV saw the video of 'All Twisted'... we were on the next day. I believe we were the first independent punk/hardcore band to be put into rotation...Faulty Products, our label at the time, did a great job of selling records, too bad they went out of business.
Phil: The end of the group followed the tragic death of guitarist Chris Smith (who'd been brought in to replace Doug), in February '86. It must have been a shattering time?
Donny: Losing Chris Smith was losing a good friend and a great guitarist. KRAUT was moving into another world with Chris. We were 3 weeks from recording our 3rd album, everything set to go and I get a phone call that he's passed...We were on to something with that boy. He's on a few released tracks 'NO NO NO', 'Wolfpack' and 'In the Dark' he was great! And we all miss him.
Phil: What did you go on to do after KRAUT? Are you still an active musician?
Donny: I'm a Producer/Recording Engineer in NYC and do enjoy my work. Recently Doug Holland, Davey Gunner and I have been playing together for a 20th anniversary show that we have been planning for this summer. Who knows I might even convince Johnny Feedback and Steve to show up! Oh and to answer the question if I'm still an active musician, I still play with myself daily.
Phil: Good luck with the anniversary show. Don Cowan, thank you very much!

Return Home <!-onMouseover Link CSS Script-&amp;amp;copy; Dynamic Drive (www.dynamicdrive.com). For full source code, installation instructions, 100's more DHTML scripts, and Terms Of Use, visit dynamicdrive.com-->
April 2001 Written by Phil Singleton
Material ©Phil Singleton 'Philjens'/www.cookandjones.co.uk
Pictures courtesy of Donny Cowan
'KRAUT The Complete Studio Recordings' is available from New Red Archives NRA14CD