Fantasy 7 - The Unreleased Demos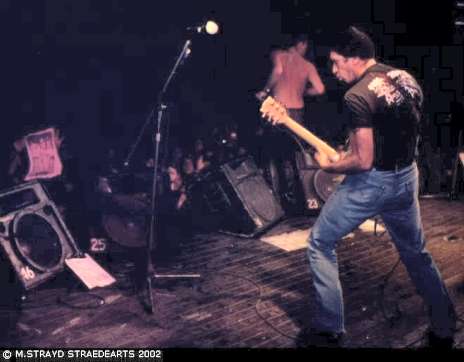 Steve Jones: guitar / Mark McCoy: vocals / Todd Hoffman: bass / Pete Kelly: drums
Twisted / On & On / Hairbrain / Angelic Gorilla / TV Babies / America / Run For Your Life / Spill My Blood / Stranger / No Bodies Dog / Planet
Steve's group from the early 90s, Fantasy 7 recorded an album's worth of demos. None of the tracks have emerged in any form in Steve's subsequent work, but nonetheless give a fascinating insight as to where he was musically at the time. Sitting in-between Fire & Gasoline & Neurotic Outsiders, they act as a bridge between the hard rock sound he employed at the end of the 80s & the slick energy of the Neurotic Outsiders. The overall sound of the cuts are reminiscent of the Stoogies & MC5, while vocalist Mark McCoy's style would not be out of place on either Raw Power or Appetite For Destruction.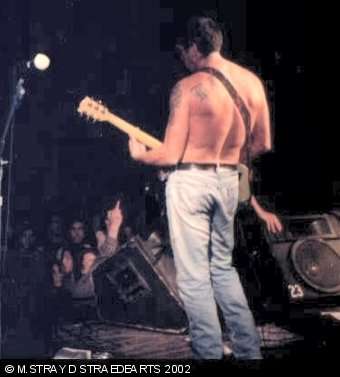 Twisted is a fabulous, thundering track, which sets the scene for the uncompromising delivery employed by Fantasy 7, "Staying out of trouble is a full time job" it declares, underpinned by a multi-layered guitar onslaught. On & On boasts a catchy chorus, with a screaming vocal. It's noticeable that Fantasy 7 operated as a group, not just as a Steve Jones project. This is reflected in the corporate delivery of the backing vocals, in which it is difficult to pick out Steve's voice amongst his band mates. Hairbrain, with it's references to Dick Tracy cartoons, features a wild Steve trademark riff, which seems to last forever. Steve is allowed plenty of freedom, & the F7 demos are a delight as a result. Angelic Gorilla is built around a grinding, ascending riff, & strays musically into Dr Feelgood Milk & Alcohol territory. "I lie in the gutter, look up at the stars, I'm signing it loud, I'm an animal, & I'm proud" belts out Mark.
TV Babies is another storming rocker, with a scathing message to match, "sterilize their minds with a 28" screen…living out their lives like a video game." It could be about you or me! America can be summed up as a pile driver, with another catchy chorus, "America, America, Get down on your knees…give it back to me." You won't find any vacuous love songs in their repertoire.
Run For Your Life is perhaps the least memorable of the demos although it's still powerful and direct, "…screwing up your nation." Spill My Blood is however a classic, up there with some of Steve's best work. A subtle, yet spine-tingling riff, coupled with attitude, "Gave it all, you wanted more." A forerunner to the Neurotic Outsiders' Six Feet Under, it's both menacing and marvelous.
Stranger is not a million miles away from Steve's liaison with Iggy Pop, and could fit effortlessly between Instinct and Fire And Gasoline. Lyrically, there's a hint of Leave Your Shoes On from Fire And Gasoline, only this time a realisation that the stranger in his bed is not that different from himself, "I see your face, and realise that you and I are the same." Once again, the track features lightning fingerwork from Steve. No Bodies Dog (sic), asks "who's serving up your breakfast…whose dog are you?" A touch Iggy-esque lyrically, it's another rocker. It's not as hot as some of Steve's work, but stays true to the Fantasy 7 sound. A further demo, Planet, was recorded, but is not available for review.
One listen to these cuts make it clear that Steve invested a lot of himself in the group, and which if successful, would have proved a worthy successor to The Professionals, a decade earlier. Although the band ultimately didn't get beyond appearances in Buenos Aires, Argentina, they had put in a great deal of ground work, as these tracks testify, (of particular note was an hilarious appearance on the TV show, Ritmo de la Noche, where they mimed not only to the track Hairbrain, but also to Steve's solo single Freedom Fighter, with Mark McCoy mouthing Steve's vocal).
Fantasy 7's legacy? An album worth of powerful hard-rockers, crying out for an audience.
Review by Phil Singleton
February 2003
Please note: The demos were loaned for review purposes only, & are not available through the site.
Thanks to German Perez Ballerini & Martyn Strayd
For more Kick Down The Doors information on Fantasy 7 in Argentina click here.

Return Home
All material ©1998/2003 Phil Singleton/www.cookandjones.co.uk