Chiefs of Relief. 1987+1.
USA Sire/Warner Brothers press information.
(Please note. The Press information reproduced below contains factual errors.)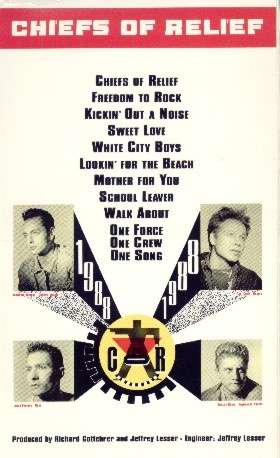 1. "The Chiefs of Relief play a ferocious brand of rock…" "The guts of rock and the power of funk…" "Anger, energy and power with all the sheer guts that characterised the punk era…" "Disciplined, intense, solid…"
The above sampling of British press raves should tell you something. The Chiefs of Relief, one of the most original and exciting bands to emerge from the UK in a long while, are not playing it safe.
If you need more proof, may we direct your attention to "Chiefs of Relief", the dazzling debut album on Sire Records. It's solid evidence that, just when you thought rock and roll was safe, sane and predictable, these dedicated upstarts have come along to inject a healthy dose of vitality into the old warhorse.
2. Produced by veteran knob-turners Richard Gottehrer and Jeffrey Lesser, "Chiefs of Relief", the album, features a host of hot wired originals, including the bands over the top UK hit, "Freedom to Rock", described by one scribe as a cult dance classic and a punchy sampler of the band at their vigorous best.
In point of fact, the distinctive sound concocted by the Chiefs of Relief dubbed by another critic as "a melange of funk - laden New York rap and hard hitting heavy metal", is deliberately designed give the status quo a run for its money. Which shouldn't come as much as it of a surprise considering the Chiefs rabble-rousing lineage.
The musically astute among us have probably already recognised two key names in the Chiefs of Relief line-up; drummer Paul Cook and guitarist/vocalist Matthew Ashman. The former was, of course, a founding member of the legendary Sex Pistols, the punk progenitors who, some 10 years ago, single-handedly dragged modern music out of its cubby-hole and into the real world. The latter served a stint as vocalist and frontman for another icon-busting ensemble, Bow Wow Wow. Cook and Ashman, one-time friends and creative conspirators, joined forces back in 1985 with the express intent of repeating history with a band that sidesteps categories and muscles out mediocrity. Along with keyboardist/vocalist Duncan Greig, late of the 70's punk outfit Martian Dance and journeyman bassist Lance Burman ("too young to remember punk" asserts Paul Cook), Chiefs of Relief was birthed as a brutally clean break and everything any of them had done before. It was a stance that immediately attracted both attention and fans when the quartet began playing London, and subsequently UK, club circuit.
3. Inspired by all manner of musical stances, but most specifically the New York dance scene, the group had mixed rap, rock, funk and a pub drenched sound all their own into a rousing original sound. The debut single "Freedom to Rock" was released in late 1985 went on to be a major dance hit, prefiguring the Beastie Boys' white rap, rap rock by a long shot. Two tours with soul mates B.A.D. helped spread the word as did a subsequent single "Weekend" co-produced by non-other than mix masters The System.
Then an East Coast USA tour, and the L P recorded in Gotham. The Chiefs of Relief are making modern, multi faced and monstrously entertaining music. And they're doing it their way.

Return Home <!-onMouseover Link CSS Script-© Dynamic Drive (www.dynamicdrive.com). For full source code, installation instructions, 100's more DHTML scripts, and Terms Of Use, visit dynamicdrive.com-->
All material ©1998/2001 Philjens/www.cookandjones.co.uk