THE PEOPLE, April 9, 1989
WAGNER'S BRIBE TO BREAK ROMANCE
From Peter Kent in Los Angeles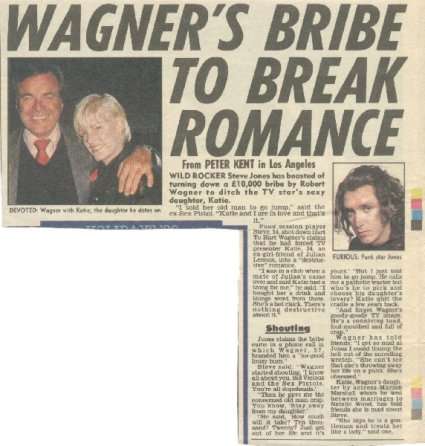 Wild rocker Steve Jones has boasted of turning down a £10,000 bribe by Robert Wagner to ditch the TV star's sexy daughter, Katie.
"I told her old man to go jump" said the ex- Sex Pistol. "Katie and I are in love and that's it."
Punk session player Steve, 34, shot down Hart to Hart Wagner's claims that he had forced TV presenter Katy 24, and ex-girlfriend of Julian Lennon, into a "destructive" romance.
"I was in a club when a mate of Julian's came over and said Katie had a thing for me," he said "I bought her a drink and things went from there. She's a hot chick. There's nothing destructive about it."
Shouting
Jones claims the bribe came in a phone call in which Wagner, 57, branded him a "no-good lousy bum."
Steve said: "Wagner started shouting 'I know all about you, Sid Vicious and Sex Pistols. You're all dopeheads."
"Then he gave me the concerned old man crap. You know, 'Stay away from my daughter.'
"He said, 'How much will it take? Ten thousand? Twenty? Just get out of her life and it's yours.' But I just told him to go jump. He calls me a pathetic waster but who's he to pick and choose his daughter's lovers? Katie quit the cradle a few years back.
And forget Wagner's goody-goody TV image. He's a conniving toad, foul-mouthed and full of crap."
Wagner has told friends: "I get so mad at Jones I could thump the hell out of the snivelling wretch. She can't see that she is throwing away her life on a punk. She's obsessed."
Katie, Wagner's daughter by actress Marianne Marshall whom he wed between marriages to Natalie Wood, has told friends she is mad about Steve.
"She says he is a gentlemen and treats her like a lady," said one.

Return Home
All material ©1998/2002 'Philjens'/www.cookandjones.co.uk