BOSTON: STEVE JONES SOLO AT THE CHANNEL: November 1989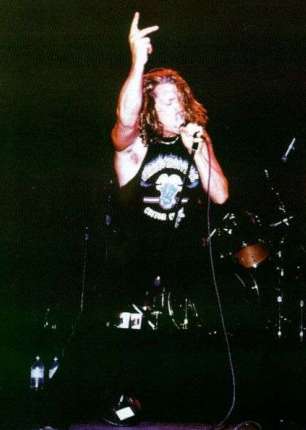 As a youngster during the Pistols first reign (1975-78), I never had a chance to scope my all time fav's (until the reunion tour hit Massachusetts on 08/09/96).
So I was out of my mind when Steve Jones came to Boston in late 1989 to the now-defunct South Boston rock club, The Channel. Actually, Steve was on the bill as support to Ian Hunter and Mick Ronson (RIP).
Since the club was fairly empty as Steve went on around 10:30, I stood at center stage (with my bud Jim and his then girlfriend) and hid a copy of Bollocks in my acid washed jean jacket (remember..this was 1989!).
When Steve took the stage (with his white Gibson guitar) he was front and center in front of me and when I yelled out his name, he reached over and shook my hand. I was kind of surprised as I had heard that the band could be very unfriendly (which I have found out is not the truth!).
Anyways, Steve played lots of stuff from Fire & Gasoline (he had actually hosted the Headbangers Ball on MTV around this time also) and did play "I Did You No Wrong" (actually he covered the song on Fire & Gasoline with Ian Asbury and Axl Rose). And it was really emotional for me to hear a Pistols song performed live (well...at least I got to hear the guitar part).
Steve bantered with the small audience (about 40 or so) and asked us if we "used rubbers?" He then made the first non-safe sex proclamation I had ever heard from a celeb when he then yelled "I would rather die than wear a rubber!" Which kinda amused and horrified me at the same time!
Anyways, just as Steve and the band (I know Terry Nails was there) came back for an encore, I boldly pulled out my Bollocks album and motioned if he would sign it. Steve took the cover and grabbed his mike and yelled "You want me to sign this...NOW??" As I was kinda freaked that I had probably offended him, he then smiled and scribbled his name on the cover and the surrounding crowd was really cool as I felt many pats on the back for my "pushy" move. (I mean scribbled. Years later when I met Johnny at a book signing in 1994, he said "What the fuck is this" when he peeped Steve's indecipherable autograph. When I told Johnny that it was Steve's he held the cover up to me and said "See? Here's proof that Steve is an illiterate.")
I did get to chat a bit with him after the gig and we asked what Glen Matlock was up too (Steve: "I don't know what the fuck he's doin!"). Which kinda made me feel like I would never see the Pistols live (though I always told people I would....and I was right....for a change!).
Anyways, thanks Steve for giving me a great night to remember in the dark days of 1989 when the thought of seeing you all was just a long shot (thanks also to Glen, Paul and Johnny for giving us the chance to see you all in 1996. Screw the critics....it was the tour of the year!!).
John Reed
Boston, MA
(Thanks to Pedro Thek for supplying the picture)
All material ©Philjens/www.cookandjones.co.uk