Sounds - August 16 1980 (UK)
DIARY OF A MAN WHO LIKES TO STAY IN
PAUL COOK discusses turning professional with GARRY BUSHELL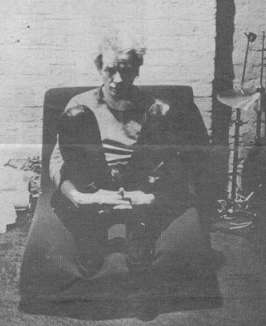 Paul Cook
THE PROFESSIONALS' debut single 'Just Another Dream' is about twenty bus stops down the road from 'Anarchy In The UK' if you're using words like meaning, relevance or cataclysm, but personally I find there's something about the old Cook/Jones sound I just can't get enough of.
Easily worthy of a protracted Top Ten residency, the single has criminally and mysteriously failed to even poke its nose into the Top 75 (why all you dildoes who buy 'Sid Farts' elpees haven't treated yourself to some real Pistollian music is beyond me). But no matter cos, as it happens 'Dream' is just a 'taster from the Profs' ace new set
Augmented by hairy bassist Andy Allen and with Jonesy handling vocal chores, the loveable working class tossers ten track debut album comes out next month. Paul Cook gave me a cassette of four of the new songs therein and if they're typical of the rest of the elpee, it'll be a killer.
What we're getting is basically the 'Pistols sound with added melody and different lyrics and vocals. 'All The Way With You' comes first and there's no mistaking that Charles Atlas size steamroller power blasting out the speakers like a souped-up chieftain Tank flattening everything in its path with big salvoes of sound.
'Crescendo' is next, slowing the pace down to a mid-tempo terrace stomper with a big Glitter-in-steel-cape chorus chant of 'Oh Oh, Oh Oh, I wanna hear the cres-cen-do.'
'123 Baby' picks up the speed again with meaty opening chords building into a really catchy verse with another big chant chorus. It's the best number so far but it's pipped at the post by the last song 'Little Boys In Blue', a heartfelt pop at the Old Bill 'built on a beefed-up Stonesy rift that belies all these 'thick idiots with nothing to say' jibes at the boys with words like 'Special Patrol/License to Kill/Liddle Towers/Blair Peach as well'.
I MEET COOKY for a chinwag about the price of beef and all that at Townshend's Eel Pie studios where he was working with Andy Allen and pals on new demo tapes (Steven according to his press office is "still-knobbing in Thailand"). Leaving behind the drunken, incoherent ramblings of the omnipresent Jock McDonut (Is this man following me?) we wander down to a rest room where a remarkably attractive receptionist dishes out the rosy while we verbalise against a pleasant background of Space Invader noises.
Paul is relaxed if not exactly bubbling over. "The single's selling steadily but slowly," he says without much trace of disappointment. "It's bound to be hard cos we're trying to establish a new name, But Virgin reckon it's sold enough to chart in the first week. It never made it though. Funny that"
They don't hype like some, I've heard.
"Nah. The single's on the album though, it sounds basically the same as the rest of the stuff except it's a bit slower. There's no real surprise. It's the same sound with different vocals and lyrics. Both of us are writing but the lyrics aren't our strongest points." He grins. "It's not all anarchy and destruction any more. People seem a bit dubious about Steve's singing but I reckon most of it sounds alright."
How did Andy Allen get involved?
We've known him for ages. He used to come and see the Pistols all the' time. Don't go by the hair, he's not into Heavy Metal at all - he hates it."
What's been the long delay getting things together?
"Half of it was our fault but there's been loads of trouble about the contracts and it got us down a bit. But we're just getting sorted out and now we just wanna get on with it, get the album going and get working,
"We ain't got any gigs planned at the moment but we're getting that sorted out too. We're thinking of getting in another guitarist for live work and we'll probably start after the album comes out.'
PAUL IS quite naturally bored with the staid old conversation stoppers 'Swindle'/'Mclaren'/'Jimbo Pursey' etc so we'll skip all that for a chat about what he's been doing. Not a lot, it would seem.
"Best thing was we've done this film in Canada with Ray Winston, the guy out of Scum and Paul Simonon. Its called "All Washed Up' and the four of us play a rock band in it with Ray Winston as the singer. So there's music in it which we wrote, that'll be out as an album when the film's out on release.
"That old hippy Lou Adler directed, so dunno what it's gonna turn out like."
Been taking in any gigs lately?
"Nah, I ain't been out for ages. There don't seem to be many original bands about. Everyone seems to have gone into electronics and it's really boring. It's all been done before. The Banshees' new album's good. And I spose there's a couple of good new bands about, Basement Five. And Killing Joke I like.
"I just been keeping busy and 'keeping healthy, No drugs or nothing - that's what's fucked half the new bands up. Really I just wanna get working again."

Return Home
All material ©1998/2002 'Philjens'/www.cookandjones.co.uk