'MY DAY WITH JONESY'
By Michael Demattei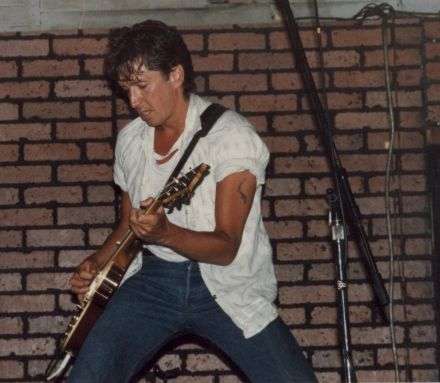 My lucky day with the 'guitar hero' began in April or May 1985 with a club listing in a Los Angeles paper saying The Dano-Jones Band featuring Steve Jones were playing at Madame Wong's West in Santa Monica. Alright!!!, I thought, the chance to see Steve up close at a dinky club! Sitting through the opening bands, I was surprised at how few people were there; after all, THE Steve Jones was playing! Before they went on, I walked into the backstage area (which was simply a tiny hallway) and there was Steve in his underwear changing into his gig clothes. I said, 'Hi, I'm a big fan of yours', or something trite like that, and in a friendly manner he replied, 'You gotta fuse on ya?'. Apparently a piece of his equipment had blown one. Never thought it would be that easy to meet a Pistol.
The music was OK. What I would call a bar band. Nothing like anything else he's done. They had few good songs, but I don't remember if any of their songs were penned by Steve. I believe the singer, Rick Dano had some success with a band in the 70's. The next show they were playing was at The Central (now the Viper Room) which is a 21 and over club, but at the time I was only 20. I got there really early and through Steve got into the club. He told me to sit tight and I'd be able to stay. Again very few people were there, but I remember Steve pointing out the Sales brothers to me. It's at this show that I took the picture that accompanies this article. Steve and I talked some more after the show and he gave me his phone number in order to come over and watch some old Sex Pistols video footage that he hadn't seen in ages. If that ain't every geeky fanboy's dream, I don't know what is!!!
I'm not sure when after that I called Steve, but I left a message (thinking he's probably too busy to ever call back). Within an hour he called back! He had just finished going for a jog. Guess the L.A. lifestyle had already gotten into his blood. He was staying with Clem Burke (Blondie, Chequered Past) down in Hollywood. He was planning on taking a bus to my house, but that would take forever, so I went and picked him up. Besides, what fan would let Jonesy ride the bus??? I drove up and out walked Steve playing an acoustic guitar. So surreal in retrospect, but I swear to God, I'm not making this up. We cruised to my house and during the next two or three hours we watched all the standard videos: The Swindle, Grundy, Winterland, etc. I think, since they're on the same tapes, we may have also watched PiL footage too. The best part of all this is hearing his comments throughout The Swindle. Just like the second audio track on a DVD! One of the main things I remember is Steve clarifying the line in 'The Great Rock & Rock Swindle', 'Bob Dylan's got an airline ticket stuck to his asshole'. Prior to this, I had no clue what was the hell that line was. He checked out my Pistols record collection, bootlegs and all (I should have had him sign everything!). And I learned that he nailed both Joan Jett (while working on her first album) and Diane Lane (during the filming of Fabulous Stains). I wonder what the list looks like now after 15 years in Hollywood!
I had my good friend Greg drop by just so that when I'm old and grey someone out there could verify that all this really happened. Steve was pretty down on his luck at this time; after all, he must have been to spend a day with a me! I don't know if he was still 'using' at this time, but he didn't even own an electric guitar and later that day he was planning to go give blood for money. He bummed five bucks off me for lunch and I took him back to his place. The end of a great day. Soon after this he became involved with Andy Taylor, Chequered Past, the whole Hollywood Harley crowd and his fortune turned around. I've never talked to him since, but Steve if you read this, 'THANKS, DUDE!'
Visit the Photo Gallery, for more Dano Jones pictures taken by Michael Demattei

Return Home <!-onMouseover Link CSS Script-© Dynamic Drive (www.dynamicdrive.com). For full source code, installation instructions, 100's more DHTML scripts, and Terms Of Use, visit dynamicdrive.com-->
Thanks to Michael Demattei & Scott Murphy
All material ©1998/2002 'Philjens'/www.cookandjones.co.uk